Skills Competition Wales
Changes to Skills Competition Wales delivery (updated 12 February 2021)
With the continued restrictions across the education sector and the most recent guidance supplied by Welsh Government on the Phase 1 return to F2F learning we recognise that there are a number of challenges in delivering some of our competitions within our current competition delivery window of 22 February and the 12 March.

The competitions most affected by the restrictions are typically in the construction, engineering and hospitality sector, given the requirement for the competitions to take place onsite. With this in mind we have worked with Welsh Government and our competition leads to establish an appropriate way forward.

We have granted our competition leads, in some areas, an extended window of delivery with the flexibility to ensure competitions are fully delivered by Friday 23 April. This is only applicable to those competitions highlighted in the construction, engineering and hospitality sector. A breakdown of these competitions is available on request. Where possible however we strongly encourage that competitions are completed by the end of March.

All other competitions will remain within the current delivery window, with the competitions required to be completed by the 12 March. Our rational behind this is that the competitions have been adapted and planned for remote delivery.

Our competition leads will continue to work closely with those registered to participate in these competitions in order to pull together suitable plans that meet the needs of each specific skills.

Your engagement up to now has been tremendous and we thank you all for your continued efforts in these challenging times. I'm sure you all agree from past experience that competition activity is a valuable learning experience for your learners and we hope that you will continue to progress forward with these competitions now that the window for delivery has been extended in some areas.

Once again, thank you for all your hard work and we hope to see some of your learners participate in our competitions very soon.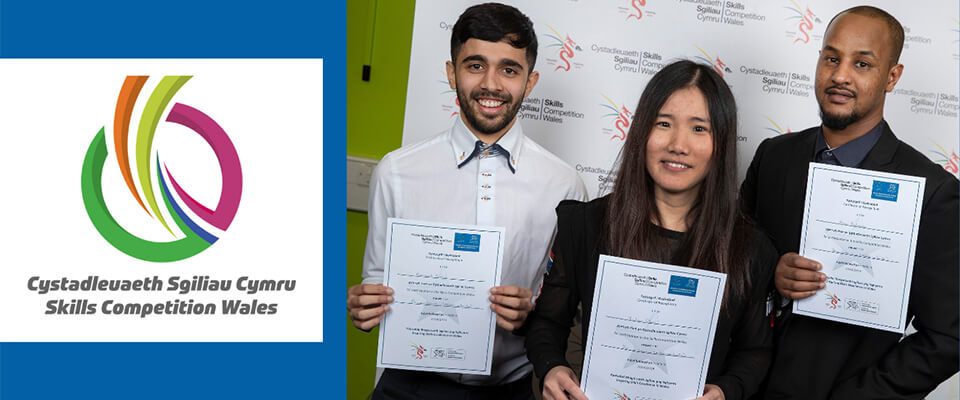 Skills Competition Wales aims to raise the profile of skills in Wales and offers students, trainees and apprentices in Wales a chance to challenge, benchmark and raise their skills by taking part in competitions across a range of sectors.
Funded by the Welsh Government and run by a dedicated network of colleges, work-based learning providers and employer-led organisations, it consists of a series of local skills competitions, aligned to WorldSkills and the needs of the Welsh economy.
The competitions are free to enter and typically run between January and March each year.
On this page you will find more information on the competitions available, links to register and previous competition results.